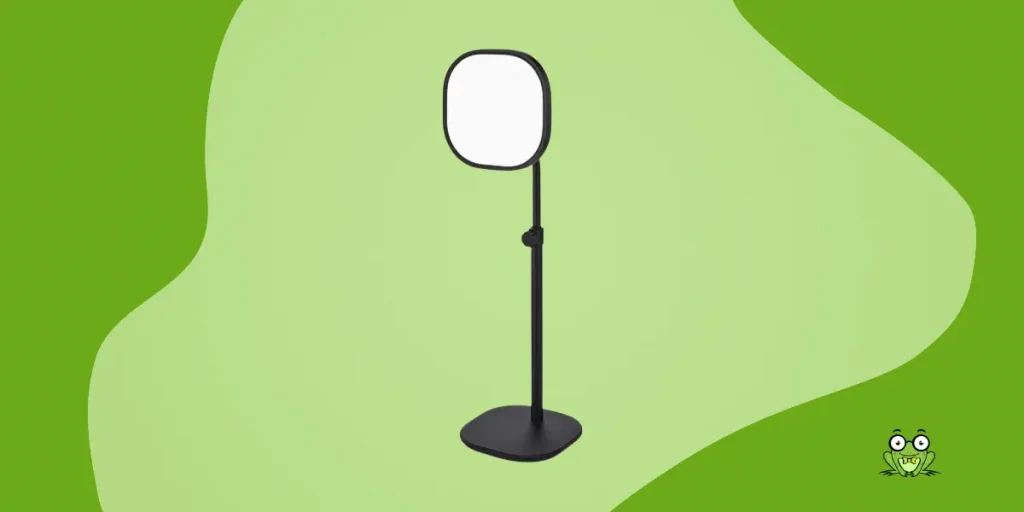 It's no secret that getting your lighting right in a videoconferencing tool like Zoom or Google Meet is hard. Many of these tools that can adjust your lighting, but they always seem to end up making you look washed out or like you're sitting in the dark.
By far the best solution is to get a set of dedicated fill lights for your desk.
I spent dozens of hours researching the options and ended up landing on the Elgato Key Light for two simple reasons:
It has a small footprint, especially when paired with the Elgato desk clamp.
It has a built-in diffuser with adjustable brightness and color temperature from 2,900K all the way up to 7,000K.
In this article I'll share the highlights and lowlights of the Elgato Key Light Air, as well as a review of its reliability (since this blog is all about reliability, after all.)
Elgato Key Light Air Review
The Key Light Air from Elgato is a desk lamp with fully adjustable brightness and color temperature ranging from 2900K all the way up to 7000K. It comes with a weighted stand and can also be attached to Elgato's desk clamp, which takes up less than 2 square inches of desk space.
Highlights
The Key Light Air is the more affordable, slightly smaller cousin to the very popular Key Light. But that doesn't mean that it doesn't deliver impressive results.
The light itself measures 8" x 8", including a thin bezel. This may seem small compared to the regular Key Light, which measures 13.77" x 9.84". But it still manages to put out an impressive 1400 Lumen, which is going to be more than enough for most rooms and situations.
For example, I rarely dial my Key Light Air above 20% intensity, or about 300 Lumen. And most of the time, I keep it dialed down closer to around 15%.
Customizable Yet Easy To Use
In addition to a dimmable 1400 Lumen max brightness, the Key Light Air also lets you adjust the light temperature from a cool blue light to a warm orange tone. This allows you to adjust the hue to make your skin tone and background look as good as possible on camera.
It also makes the Key Light Air much more versatile. You can use a cool, bright setting for delicate task work and switch over to a more relaxing, subdued warm light for those times when you want to focus.
These two settings are easy to access and adjust with the Elgato Control Center app available on Mac and PC, as well as Android and iOS.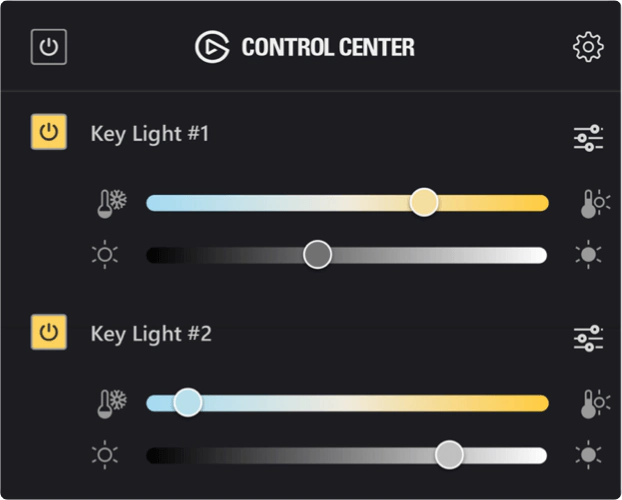 That means you won't be stumbling around through a maze of options or unnecessary functions to adjust your lights. The great thing is that this allows you to quickly make adjustments as the light in your space changes.
Works Well In Pairs
The able to dial in the brightness and temperature of the Key Light Air is definitely a game changer when you are trying to get the right look in your videos. But equally important is how well the Key Light Air works when you set two up on either side of your desk.
By pairing two Key Light Airs together, you're able to have complete control over the amount of light that's hitting your face (and your background, to a lesser extent).
This let's you set your lights so that one side of your face is slightly more illuminated than the other, which will give your videos a more cinematic feel.
The main reason that I recommend the Key Light Air is because you can afford to buy two of these lights for roughly the same price of one regular Key Light. And by doubling your lights, you can dramatically increase the quality of your videos.
Lowlights
While I am a huge fan of the Key Light Air, there are a few drawbacks that you should be aware of.
At a regular sale price of $129.99, they are still fairly expensive — especially if you plan on purchasing two of them for a more flexible desk setup. (Note: The Key Light Air is currently on sale for $99.99, making this somewhat easier to justify.)
Another concern that can be a deal-breaker for some is that the Key Light Airs require a constant internet signal in order to function properly, since they pair to your computer over WiFi.
If you live somewhere with spotty internet connection or your WiFi network isn't strong in the part of your house where you'll be setting up the Key Light Air, it might be best to look for an alternative that can be adjusted directly from the light.
You'll also need to be on a computer running MacOS 10.14 or newer or Windows 10 (64-bit). So if your operating system is slightly older, you may not be able to use the included Elgato Control Center app from your computer, although there is an iOS and Android app available too.
Reliability
I've been using two Elgato Key Light Airs as part of my conferencing setup for the past 6 months, and in that time I've experienced no problems at all.
I was a little nervous ordering them online because I know that lights can often times be damaged during shipping. But Elgato knows how to package its products, and both lights arrived without any issues.
The construction of the light and diffuser seem extremely solid but still lightweight enough that the lights are easy to move and adjust with just one hand.
Once you've dialed in the exact settings that you want, you can program the Key Light Air to always remember that setting when you power it on. This makes setup effortless, and if you ever need to make a change on the fly, you can easily adjust the brightness and temperature from a menu bar or smartphone app.
I'll post regular updates to this article as I continue to use the Key Light Airs, but so far I've had no issues that would concern me.
Conclusion
The Elgato Key Light Air is a solid, reliable, and flexible light for smaller desks and work spaces. It can reach up to 1400 Lumen of brightness and has a wide range of temperature adjustments so that you can make sure that skin tones look accurate and flattering in your videos.
Overall, I highly recommend picking up two of these lights and trying them out for a few days. The combination of adjustable LED lighting, a built-in diffuser, and a small desk footprint (with the optional desk clamp) make this one of the most versatile desk lights that's available.
You can watch the video below to learn more, or purchase a Key Light Air directly from Elgato.com.