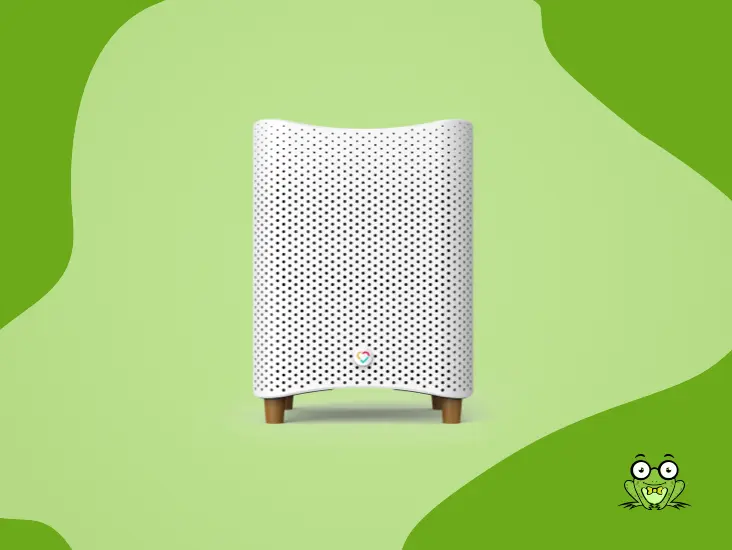 Mila started out as a Kickstarter project in November 2019, where it raised over $1.1 million to join a small-but-growing stable of smart air purifiers. I picked up two of these units about a year after that and have been stress testing them in a dusty house for the past fifteen months.
That means that my two Milas have been running for a little over 10,000 hours each. Since Reset Anything is a site that's all about reliability, I think it's important for each review to be based on long-term, real-world experience.
This allows me to give you a true in-depth review that answers the #1 question that you probably have on your mind: Is the Mila air purifier really worth spending $350 (or more) on?
(I think it is, and I'll explain why this has quickly become one of my most recommended devices. Plus, at the end of this article I'll share a link where you can get a $50 discount off your purchase if you decide to get one.)
Ready to find out what it's like to own a Mila?
Great, let's get into it then!
Overview
The Mila air purifier shows how effective it can be when you combine engineering smarts with a dose of personality.
Each device is powerful enough to clean and recirculate the air of a typical living room five times per hour, the recommended rate for allergy and asthma.
And Mila comes with a companion app for both iOS and Android that lets you control it from anywhere. The Automagic mode can even detect when someone is in the room, silencing the fan and then running a deep clean when you leave for the day.
Since adding two of these air purifiers to my home, I've noticed my allergies improve significantly and I haven't caught a single cold in 14+ months.
Why Indoor Air Quality Matters
Before going into the details about what I like and don't like about Mila, let's talk about the air in your home.
Specifically, let's look at why the air we breathe matters—a lot more than you probably think it does!
According to the EPA, we spend about 90% of our time inside—and a good portion of that time is spent in our homes. This is especially true if, like millions of people, you have started working from home on a part-time or full-time basis.
In any given day, we breathe in and out about 22,000 times. If 90% of our time is spent indoors, that means you're breathing the the air in your home anywhere from 10,000 to 20,000 times per day.
That's a lot of air. So it's important that to make sure it's clear of things like VOCs, dust, and allergens which can get into your airways and make you miserable.
Pricing and Which Filter to Choose
Let's talk price.
A single Mila air purifier will set you back $349 plus tax, with the first filter on the house if you choose Auto-Refill (which you probably should).
I have to admit that I was extremely hesitant to spend this much money on air purifiers at first.
Dropping $700 on something that simply runs in the background of your house is, well, a lot to ask. Especially when there are so many other ways to use that money.
So I had very high expectations of these little devices. And I am happy to report that Mila has exceeded nearly all of my lofty expectations — despite a few hiccups.
If you're interested in picking up two or more Milas, it's worth noting that there is no discount for buying additional devices. This shouldn't be too surprising given the supply shortages that have rocked the electronics world lately.
Still, it's a bit disappointing since most people will need to order more than one air purifier in order to cover their whole house or apartment. It would be nice to see some incentive for doing the right thing for your lungs.
To soften the blow, Mila at least injects some of their signature humor into their pricing page.
Try adding 16 Milas to your cart from the purchase page and you'll see a message saying, "This is bringing up a lot of questions for us." Try adding 18 Milas and the message changes to, "What would one even do with 18 air purifiers?"
The messages get more entertaining from there, so I won't spoil it. Keep increasing the quantity until you get to 31 for a nice surprise.
Filters
Mila offers seven filters that are each designed for a specific use case and will last about 6 months with regular use.
| Filter | Price | Best For | HEPA | Carbon |
| --- | --- | --- | --- | --- |
| The Basic Breather | $59 | Large Rooms | H12 | No |
| The Big Sneeze | $69 | Small Rooms | H13 | No |
| The Rookie Parent | $69 | Bedrooms | H12 | 0.7lbs |
| The Critter Cuddler | $69 | Small Living Rooms | H13 | 0.84lbs |
| The Home Wrecker | $79 | Standard Living Rooms | H12 | 1.96lbs |
| The Mama-to-Be | $79 | Bedrooms | H14 | 0.7lbs |
| The Overreactor | $99 | Bedrooms | H14 | 1.25lbs |
| | | | | |
The flexibility of these filters is one of the features that really sets Mila apart from competitors like Alen or Dyson. It lets you customize the Mila to a specific situation, essentially turning one air purifier into seven.
Are your allergies worse in the Spring? Switch to the Big Sneeze filter in March. Just moved into a new home? Get the Home Wrecker and avoid inhaling the VOCs that are off-gassing all around you. Got a new dog? Pop in a Critter Cuddler filter to eliminate pet odors.
I could go on, but you get the idea.
So far I have been extremely happy with the Overreactor filters in both of our units. Now that I'm getting to know the new house a little better, I'll probably switch one of the filters to the Home Wrecker in order to get extra formaldehyde removal and save a little money.
Which brings us to an important point: Price.
Replacement filters for the Mila aren't exactly cheap. Expect the basic level filter to set you back by $59 and the top-of-the-line Overreactor filter to set you back by $99.
Mila also offers a 5-pack of washable socks for $50. Socks are essentially cloth covers that go over the filter and help to catch larger dust particles.
In my experience, putting a sock on your Mila filter can extend its life by about two months, meaning you only need to change them out every 8 months or so.
These prices are definitely in the "premium" category for air purifiers, but they aren't that far off from the competition.
To put them into context, replacement filters from Dyson cost between $69 and $79, while filters for Alen air purifiers can range anywhere from $99 to $139.
Automagic Mode
Where Mila really shines is in its simple yet customizable Automagic mode.
And the automagic mode can intelligently switch between various scenarios such as Energy Save Mode, Housekeeping Service, and even Whitenoise Mode to help you relax and drift off to sleep.
Thoughtful features like an app-enabled Child Lock Mode, air quality detection, and configurable sleep and wake times help Mila adapt to your schedule.
I rarely found myself having to switch Mila out of the default Automagic mode. In fact, once the initial setup was done, it seemed to read my mind.
When I entered the room, it would go whisper quiet. When I left for lunch, it would switch over to Housekeeping Service to provide a deep clean of the whole home.
The full range of modes are listed below.
Bubble Boy Mode
This mode tells the Mila to prioritize air quality over noise levels. If you activate this, you will always have the cleanest air possible, but the noise may get to you after a time.
Child Lock Mode
Since the Mila sits so low on the ground, it's basically an beacon for curious fingers. This mode disables all controls on the unit itself so that children and pets can't accidentally adjust the settings.
Energy Save Mode
If you're looking to use as little energy as possible, this mode is for you. When Mila detects good air quality, it will completely turn off the screen and fans, using only as much power as it needs to keep the sensors running.
Housekeeping Service
With this mode activated, Mila will use the app and sensors on the device itself to detect if someone is in the room or not. When no one has been around for a while, it will ramp up the fan speed in order to deep clean the room, and then quickly go quiet as soon as it detects movement again.
This is my favorite mode because it ensures that you come home to the freshest air possible (without disturbing you).
Quiet Mode
When this mode is activated, the Mila will get as quiet as it possibly can (without stopping the fan altogether) when you're in the room.
This is great if you're a light sleeper or if the Mila is in a public space, like your living room. I use this mode a lot when watching TV or if I am trying to focus.
Sleep Mode
Similar to Quiet Mode, Sleep mode will turn off all lights and slow the fan speed down while you're asleep. In addition, it will avoid fluctuating the speed of the fan so that you don't experience any subtle changes in noise levels.
Turndown Service
This is another favorite of mine. If you activate this mode and program your usually bedtime using the Mila app, the air purifier will run a deep clean an hour before you go to bed. This ensures that the air in your bedroom is clean and ready for you when you climb into bed.
Whitenoise Mode
If you need a little whitenoise to help you fall asleep at night, Mila can do this too. It will adjust the speed and angle of the fans in order to give you a nice, smooth sound with no oscillation.
Noise Levels
Mila is able to run its fans at extremely low speeds, making it exceptionally quiet in most cases. You can use a combination of modes in the app to either make the device more quiet or to prioritize air quality, depending on your mood and needs.
That said, the higher fan speeds can get rather noisy, so it's best to let those run while no one is around. I have found that the Housekeeping and Turndown modes are ideal for this, as they will automatically deep clean your home's air whenever they are left alone for an extended period of time.
Clean Air Delivery Rate (CADR)
Clean Air Delivery Rate refers to the amount of air that Mila can recirculate in a given time frame. Mila uses the industry standard of square meters per hour, and the rate depends on the filter that you choose.
If you want maximum CADR, go with the Basic Breather. It can recirculate 448 square meters of air every hour, which is nearly twice as much as the top-of-the-line Overreactor filter.
In general, the more effective the filter, the lower the CADR is going to be. That's because the thicker filters slow down the air as it passes through, trapping contaminants and odors but also reducing the overall capacity of the device.
Design and Aesthetics
The design of the air purifier itself is brilliantly simple.
The white cover is perforated with hundreds of tiny holes that pull in 360º of air all around it. This air is then passed through a beefy filter before finally being released straight up.
This air pattern helps to create a vortex that lets each device clean up to 1,000 square feet. I never noticed pockets of stale air, even when placing Mila in a living area that is chopped up into a number of different rooms.
The overall design is fairly minimal, with a slight mid-century modern vibe to it.
Mila comes in one color — white with a black top and wooden legs — but its versatile enough to go with both modern furniture or a more traditional look. And they will sometimes offer a limited edition matte black version for a $50 upcharge.
Ultimately, though, beauty is in the eye of the beholder. So if the pictures have you wondering if it will look out of place in your home, you may want to look into more traditional options like Filtrete or Levoit.
The Mila App
Mila also comes with a clever app (available for both iOS and Android) that provides you with a nice graphic of your house and the status of your Milas.
You can even zoom out to see the air quality of your neighborhood and receive alerts when it gets especially bad.
Warranty and Customer Support
Mila offers a one-year warranty against manufacturer defects. In my 15+ months of testing, Mila's customer support team always responded within 1-2 business days to any question or issue I had, and they were extremely helpful.
They even offered to completely replace a malfunctioning unit even though it was a few weeks past the one-year warranty period, showing a refreshing dedication to owner satisfaction.
If you do find yourself needing to replace your device, the process is quick and straightforward. They will ship you a new Mila along with a prepaid mailing label. All you have to do is put the old device into the same box, affix the label, and send it back to them.
Mila Downsides
Of course, no piece of technology is perfect. Both of my original units had to be replaced because the fan started to make a loud noise that sounded like an idling truck, even at low speeds.
This was not a huge issue, but it eventually became annoying enough that I reached out to Mila support in order to resolve it. (I was able to fix smaller issues by simply resetting the Mila.)
Other owners have reported of spotty WiFi connections that will randomly drop out, although I haven't run into this problem so far.
It's worth noting that the two Milas I had to replace were among the first batch produced, and the company claims to have upgraded many of the internal components for its current batch of air purifiers. I'll update this review in a few months' time to let you know how these new Milas are getting along.
Conclusion
I started this review by claiming that Mila was the device that I recommend the most to friends and family.
The reason is simple: We all spend time indoors and we all breathe air. So it's worth the investment to make sure that air is as clean as possible, both for your overall health and for your comfort.
This is especially true as COVID-19 continues to be a stubborn fixture in our lives, not to mention the flu, allergens, and common cold.
Some of the most notable features that I covered here are:
Competitive pricing among premium air purifiers
Seven unique filter types for different situations and preferences
A smart Automagic setting with 8 different modes
Powerful clean air delivery rate and up to H14 HEPA filters and nearly 2 pounds of granular carbon for odor removal
If you're thinking about adding Mila to your household, you can grab a unique coupon code to get $50 off your first order by purchasing directly from their website.
They are also available to purchase from Amazon if you prefer to go that route.