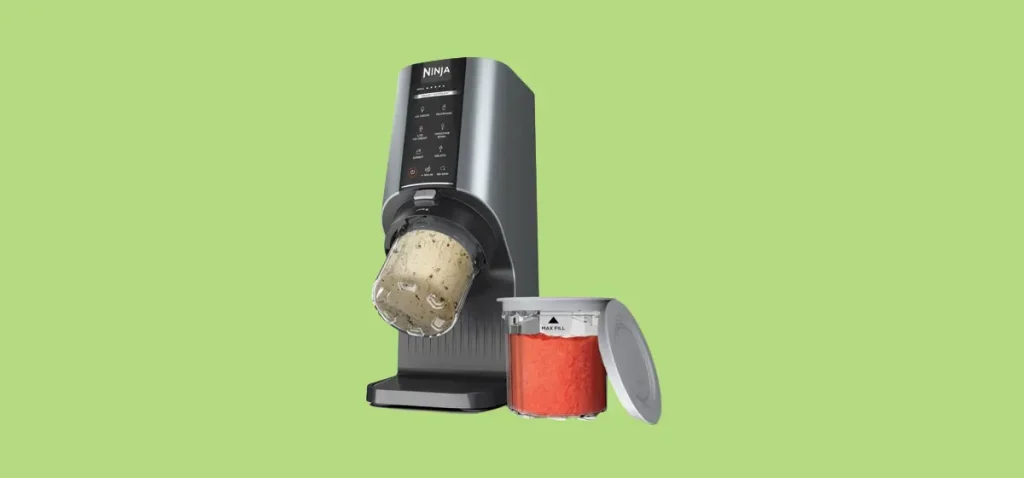 The Ninja Creami Breeze is the latest addition to Ninja's line of ice cream makers that have proven to be extremely popular—and surprisingly reliable.
Compared to the full-size CREAMi Deluxe, the Breeze is about 2″ narrow and 1″ shorter, as well as a full three pounds lighter. It can still make all of the same great concoctions in the 16 oz. pint containers that are BPA-free and dishwasher safe.
If you've been eyeing a Ninja ice cream maker and are curious to learn more about the newest addition, read on for all the tasty details.
How Much Is The Ninja CREAMi Breeze?
The Breeze costs $199.99, which makes it about $50 cheaper than the larger CREAMi Deluxe ice cream maker. For that price you get the machine, a paddle, and two 16 oz. containers with lids.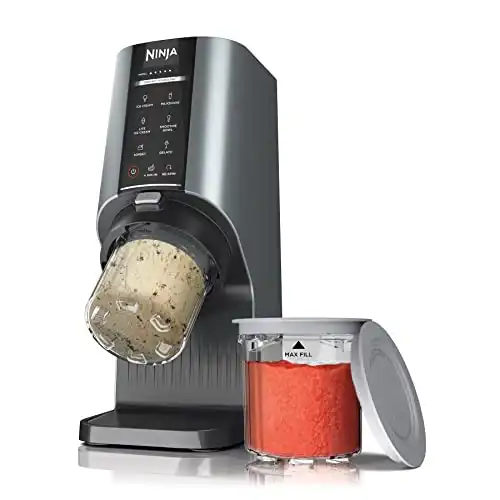 How Big Is The Breeze?
The Breeze is both shorter and more narrow than the Deluxe ice cream maker, which may make it a more attractive option for those looking to save on counter space. The Breeze is 12.21 inches deep, 6.3 inches wide, and 15.75 inches tall.
That's compared to the full-size CREAMi which is 12 inches deep, 8.4 inches wide, and 16.7 inches tall.
The Breeze is also considerably lighter, weighing about 11.7 pounds vs. 14.4 pounds for the full-size CREAMi. Three pounds may not sound like a big difference, but if you're lugging the machine out to make ice cream once or twice a week in the summer, you may appreciate it more than you think!
| Model | Depth | Width | Height | Weight |
| --- | --- | --- | --- | --- |
| CREAMi Breeze | 12.21″ | 6.3″ | 15.75″ | 11.7 lbs. |
| CREAMi Deluxe | 12″ | 8.4″ | 16.7″ | 14.4 lbs. |
Dimensions from Ninjakitchen.com
What Pints Fit The Breeze?
Compared to the Deluxe ice cream maker which comes with two 24 oz. pints, the Breeze uses the smaller 16 oz. pints. This should be enough for about 3-4 servings, and as an added bonus your ice cream will be ready sooner since there is less mixing required.
All of Ninja's ice cream containers are BPA-free and dishwasher safe, so cleaning the pints is as easy as throwing them into the dishwasher when you're done.
You can pick up extra pints from Ninja's online store for about $10 each, which is a great way to keep your freezer stocked with all of your favorite varieties. Just be sure to use either the NC100 or NC200 series pint containers.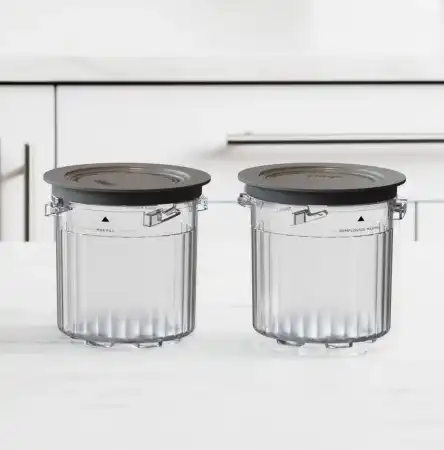 Where To Buy the Ninja CREAMi Breeze
At the moment the CREAMi Breeze can only be ordered directly from Ninja's official store. The good news is that ordering directly from Ninja entitles you to a 60-day money-back guarantee if you decide that it isn't right for you (although you will need to pay shipping).
If you're willing to wait, the Breeze will be available at Target starting July 2nd, with more retailers expected to follow.
Will The Ninja CREAMi Breeze Work With Milk Alternatives?
Although it's only been out for a few weeks, several reviewers have already reported that the Breeze handles almond milk and oat milk surprisingly well, creating vegan ice cream that's as smooth and refreshing as that made with dairy milk.
That's good news if you're considering getting an ice cream maker to create vegan treats or if someone in the house is lactose intolerant.
Final Thoughts
The Breeze is the perfect addition to anyone who wants to make easy, frozen treats at home but doesn't need (or want) large containers. And because it's smaller and lighter than most ice cream machines, it's easy to tuck away when you're not using it.
Some reviewers have also pointed out that the Breeze runs more smoothly than the Deluxe ice cream maker, with less abrupt changes in speed and lower motor noise overall.
That added convenience—and the lower price point—will likely make this a go-to option for ice cream aficionados.