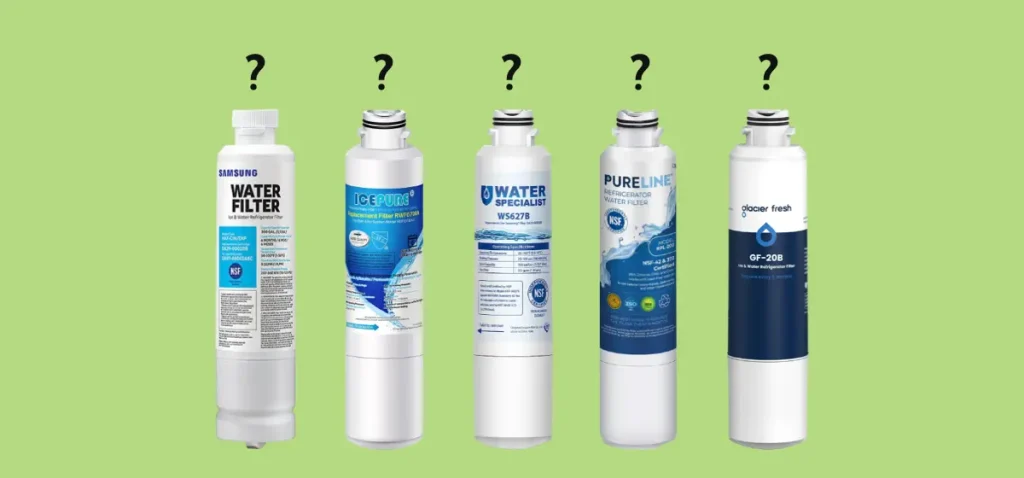 Picking the right water filter replacement is a balance between budget and performance.
On the one hand, you don't want to spend more money than you have to. On the other, you don't want to end up with a substandard filter that could cause leaks or that will only last a couple of months.
That's why I've ranked the five best deals for Samsung water filter replacements, along with their quality, pricing, and NSF certifications.
To come up with this list I reviewed 13 brands of water filters, including Crystala, Golden Icepure, Waterdrop, Amazon Basics, Pureplus, Glacier Fresh, Filterlogic, Waterspecialist, Aqua Crest, Overbest, Philips, and Culligan.
Here are the best deals, in my opinion:
The rest of this article will break down each brand of filter and give recommendations for the most affordable, highest quality, and best tasting filters.
And of course, when it comes time to actually replace your Samsung filter, I have a guide for that as well.
Genuine Samsung Water Filters
Official Samsung Filter
Genuine Samsung Water Filter Replacement (1 Pack)
Although more expensive than other options, genuine Samsung filter replacements are guaranteed to fit and are the only filters on this list that reduce harmful contaminants. Certified against NSF 42, NSF 53, and NSF 401 standards.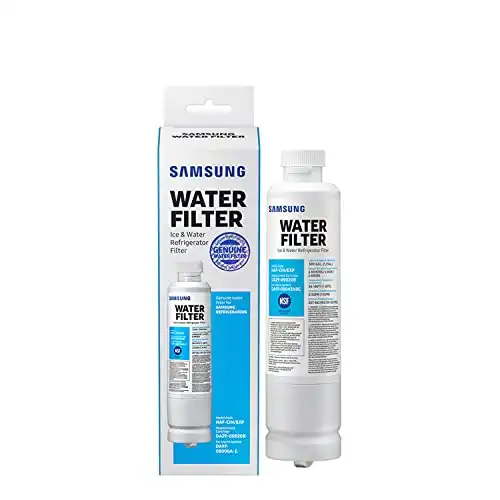 I may earn a commission if you make a purchase, at no additional cost to you.
It should come as no surprise that Samsung's official filter replacement has the best reviews overall.
Not only is it designed specifically for Samsung refrigerators, eliminating any risk of leaks, it is able to filter out more contaminants than any third-party filter. It is certified against NSF 42, 53, and 401 standards.
Achieving all those certifications isn't easy and helps to explain why these cost as much as they do. These are also the only filters that Samsung will guarantee if there is a leak that ends up damaging your refrigerator.
Best Samsung Water Filter Replacement
Best Tasting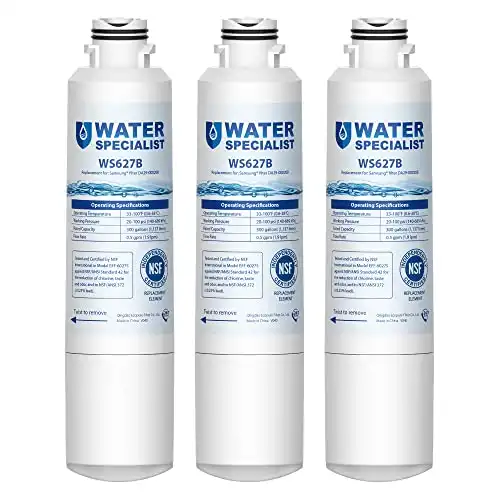 I may earn a commission if you make a purchase, at no additional cost to you.
When it comes to water filters, taste is mostly about two things: chlorine and minerals.
Too much chlorine will make your water taste acidic or fuzzy, while water with a lot of minerals will tend to taste chalky and bitter.
A good filter removes both chlorine and minerals from the water, but they aren't all made equal. Activated coconut carbon is especially effective because of the relatively high number of micro-pores.
The Waterspecialist takes my recommendation because it is one of the few water filtesr that actually uses coconut carbon. The taste is crisp, clean, and neutral, eliminating both minerals and chlorine from tap water.
It's worth noting that Pureline filters also use activated coconut carbon, but they didn't receive as high marks for taste.
Most Affordable Samsung Water Filter Replacement
Most Affordable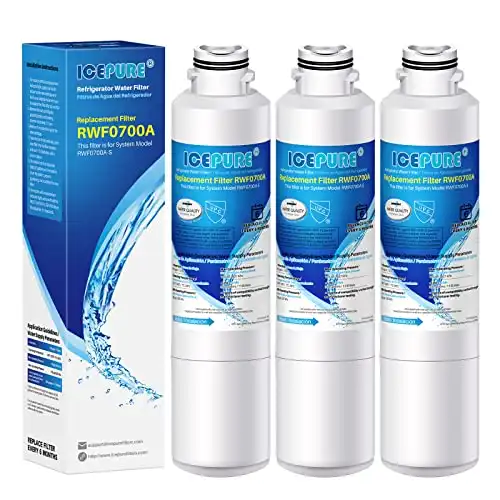 I may earn a commission if you make a purchase, at no additional cost to you.
ICEPURE makes replacement filters for many different models of Samsung refrigerators—and they also tend to run sales, dropping the price as low as $8 per filter.
That's a serious bargain considering that the official filter costs four times that much.
Keep in mind, however, that newer Samsung refrigerators may not detect third-party filters correctly. This is not an issue exclusive to ICEPURE, but it does mean that you may have trouble turning off the Replace Filter indicator light on your fridge.
If your fridge was made in the last two years or so and the idea of the filter light staying on is a deal breaker for you, it's best to go with genuine Samsung filters.
More Highly-Rated Samsung Replacement Filter Brands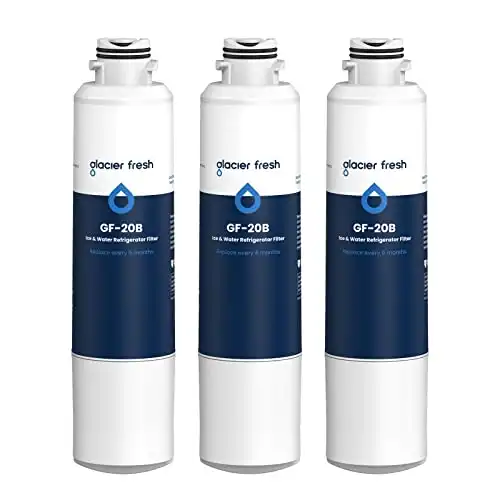 I may earn a commission if you make a purchase, at no additional cost to you.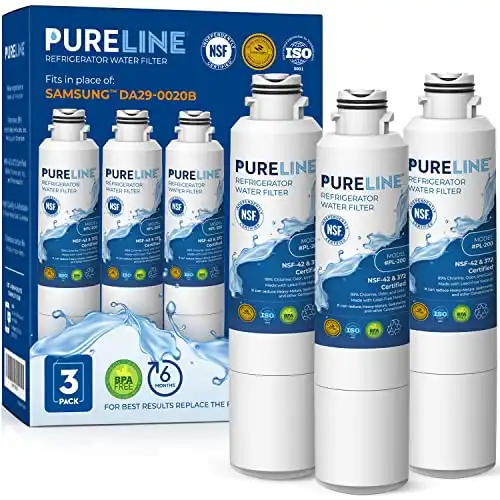 I may earn a commission if you make a purchase, at no additional cost to you.
Glacier Fresh and Pureline both average 4.7 stars on Amazon with more than 10,000 reviews each, so they've been tested in many refrigerators over the years. They also both have activated carbon filters.
Overall, either of these filters could be a great option. Glacier Fresh tends to be a slightly better deal, but that's likely because Pureline uses coconut charcoal which can help provide a better, crisper taste to your water.
Final Thoughts
To be honest, I started out extremely skeptical about third-party water filters for Samsung refrigerators.
Given all the different refrigerator models that Samsung sells, and the constantly changing designs, I figured it would be difficult for another company to match it exactly without risk of causing leaks.
And while it's true that the only way to be 100% certain about a filter is to use the genuine one that Samsung sells, it seems that it's relatively rare to run into issues with third-party filters.
I'd say it's roughly 90%-95% certain that a third-party filter will work without issue. So a good way to tell if you should buy one is to ask yourself if you're comfortable with a 5%-10% chance that you might have to deal with a leak or other problem.
If that sounds like a decent trade off, then you can save a lot of money by going with brands like ICEPURE and Waterspecialist.
Otherwise the genuine Samsung filters might be worth the extra investment, both for the peace of mind and for the extra filtering capability and NSF certifications.