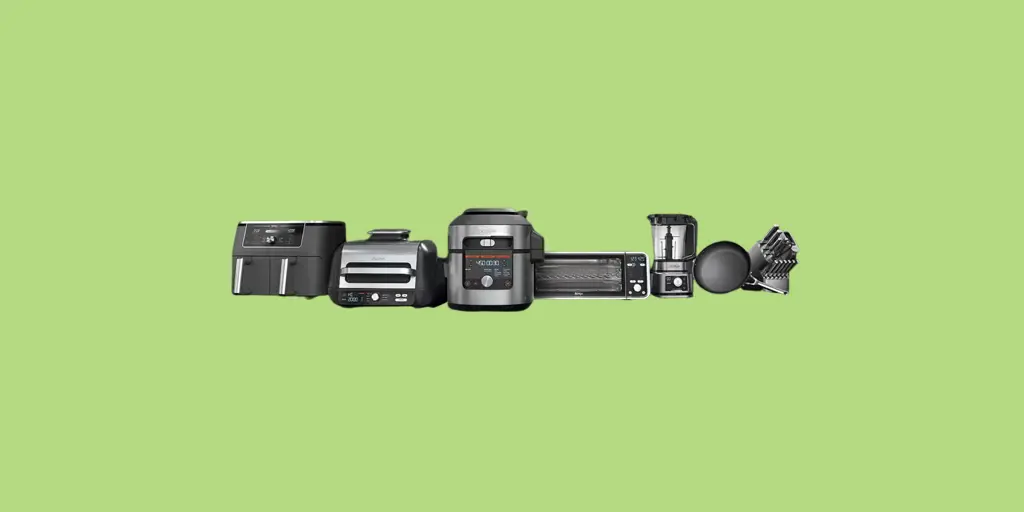 Ninja's Foodi line of products combines most of Ninja's most popular kitchen tools under one brand. This includes their pressure cookers, grills, ovens, blenders, air fryers, and cookware.
And the last thing you want to do is go through the hassle of reaching out to the customer service team only to be denied because your issue or situation isn't covered by the warranty.
So I recently looked over Ninja's warranty for all of it's Foodi products to figure out exactly what protection it offers and what will happen if you ever need to use it.
Every Foodi kitchen tool includes a 1-year limited warranty, plus a 60-day money-back guarantee if you purchase directly from Ninja. The warranty covers issues that existed or were created during manufacturing. Foodi NeverStick Cookware comes with a 10-year guarantee that it won't stick, chip, or flake.
The rest of this article will dive a little deeper into the details of the warranty, what it means for you, and what you can expect (based on real experiences) should you need to reach out to Ninja.
Let's get right to it!
How Long Is The Ninja Foodi Warranty?
Each Ninja Foodi product comes with a limited warranty that's good for 12 months after purchase. In order to qualify for service, you will need to reach out to Ninja and begin the process while your product is still in the warranty period.
Fortunately, customers who were near the 12-month cutoff reported that Ninja still honored it as long as they reached out to support before the period ended.
So even if you're not sure if your issue will be covered, if you're close to the 12-month cutoff, it's best to reach out and at least raise any problems you're experiencing.
Foodi NeverStick pots and pans come with a generous 10-year warranty that guarantees they won't stick, chip, or flake during that time.
Ninja Foodi NeverStick Warranty
Ninja offers an extended warranty for its line of non-stick pots and pans sold under the Foodi NeverStick brand.
These products are guaranteed not to stick, chip, or flake for a period of 10 years after you purchased them.
If you're like me, you're probably wondering what the catch is. I know that most nonstick pans that I've bought in the past were lucky to make it more than a few years before eggs started sticking to the bottom like magnets to a refrigerator door.
There are a few items to keep in mind when considering how much protection you'll enjoy from Ninja's 10-year NeverStick warranty:
The warranty is non-transferable, which means that if you give the pots and pans away or sell them, that person won't be covered
If you do need to use the warranty, Ninja charges a replacement fee of $19.95 once they ship the replacement to you
The warranty only covers scratches and stains that impact the nonstick release properties of the pot or pan
Heating your pots and pans over 500ºF voids the warranty, which means you'll need to avoid using it above medium-high heat for a prolonged time on most stove tops
Damage caused by knives, forks, or mixers, as well as abrasive cleaners such as scouring pads or steel wool
Ninja may require you to send them a video or complete a video chat with them so that they can inspect the damage in more detail
Overall, these are pretty sensible exceptions and most customers reported being happy with the experience. Their reviews on Amazon are stellar, with an average of 4.7 stars.
The main complaint was that the marketing made it seem like the nonstick coating was metal utensil safe, but use of sharp metal utensils (like forks and knives) will void the warranty.
That detail is mentioned in the manual, but it isn't made very clear up front.
Do Ninja Foodi Products Have A Lifetime Warranty?
For most Foodi equipment, you can contact Ninja customer service to upgrade the 12-month limited warranty to Ninja's Lifetime VIP Warranty. This will typically cost anywhere from $50-$100, depending on the model you select.
It's important to know ahead of time that, while the VIP warranty is called a "lifetime" warranty, the terms change in the event of a replacement. If you receive a replacement unit, that product will come with a 2-year warranty that starts as soon as you receive the shipment at your home.
Ninja Foodi Repair Service
If you end up needing for your Foodi product to be repaired or replaced under warranty, Ninja will cover the cost to ship the defective product to them. However, they will charge a fee for the return shipping, even if they end up replacing the entire unit.
It's important to note that the replacement unit comes with 6 months of additional warranty. If you have more than 6 months remaining on your 1-year warranty, then that takes precedence.
This essentially protects you in case there is something wrong with the repairs or with the replacement product that was sent to you.
What Does The Ninja Foodi Warranty Cover?
This is where things can get a bit tricky. In general, the warranty will cover any issue that was caused by a defect in either the materials or the assembly of the product.
There are two big requirements, though: The product must have been used under normal household conditions (i.e., not in a professional kitchen) and it must have been maintained properly.
"SharkNinja warrants that the unit shall be free from defects in material and workmanship for a period of one (1) year from the date of purchase when it is used under normal household conditions and maintained according to the requirements outlined in the Owner's Guide."
What Does The Ninja Foodi Warranty NOT Cover?
Ninja's warranty doesn't cover normal wear and tear, units that have been tampered with or repaired by a third party, and damage from neglect or abuse. It also doesn't cover issues outside of the 1-year warranty period, unless you've purchased additional protection.
In plain terms, this means that you will need to demonstrate that you didn't use the product in any unusual way and that you did everything you were supposed to in order to maintain it and keep it in good working order.
Ninja will also not warranty any Foodi products that were purchased or used outside of North America. So if you took your Foodi pressure cooker with you on vacation to Peru and used it, its warranty is sadly no longer valid (but hopefully you had a great time).
Ninja Foodi Warranty Experience
If you end up needing to reach out to Ninja for service or support, you'll find that they have a pretty standard warranty experience.
You can expect the following:
Contact customer service with your issue.
They will ask for additional details and may require you to attempt troubleshooting steps.
You may need to demonstrate that you've followed the maintenance directions in the owner's manual.
Once the customer service team determines that the issue is covered under warranty, they will arrange for you to ship the defective product to them.
A replacement or repaired unit will then be shipped back to you.
Like most home appliance warranties, this can sometimes be a lengthy process as a number of steps must be taken before a replacement can be authorized.
Ninja has a good reputation for making good on its warranty, however some customers claimed that the company tends to blame user neglect for most issues.
Your best bet for a positive experience is to approach Ninja's customer service team with a detailed explanation of your issue. Be prepared to detail the steps you've taken to maintain and clean your equipment, and how regularly you follow them.
What You Should Know
Overall, Ninja offers a very standard warranty with a slightly lengthy but fair repair service. 
The legal language in the warranty gives Ninja a lot of room to deny requests. However if you are truly experiencing a covered issue they should be willing to repair or replace your Foodi product.
You can only contact customer service by calling them at 1-800-365-0135. Support is available from 9am to 9pm ET Monday through Friday, and from 9am to 6pm ET on Saturday.
You can learn more and get additional troubleshooting help in their online support center.