The Beacon is the latest addition to eero's lineup of WiFi range extenders and is the simplest range extender yet. So what is the proper way to reset one?
If your internet speeds have suddenly dropped in one area of your home or the LED status light has changed color, it may be time to reset it.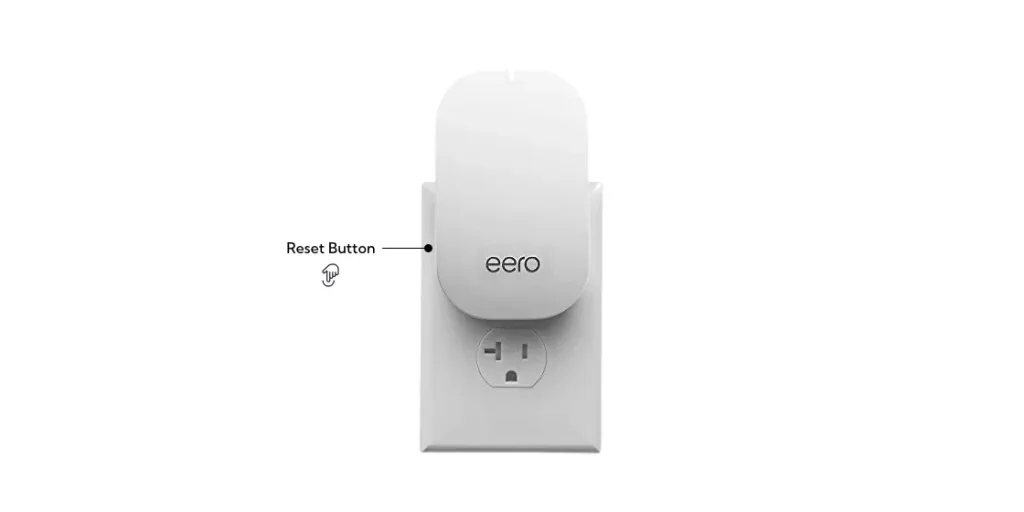 To reset your eero Beacon, try power cycling it first by unplugging the device from the outlet and waiting 30 seconds before plugging it back in. You can perform a soft reset by pressing the reset button on the side for 7 seconds, or a factory reset by holding it down for 15 seconds.
If you want to know more about how to reset your eero Beacon, I'll cover all three reset methods in more detail and explain what to do if you get stuck.
Let's get right to it!
How To Power Cycle eero Beacon
Most problems can be fixed by unplugging the Beacon for 30 seconds and then plugging it back in. This forces the device to disconnect from your network and then reconnect to it, but it doesn't delete any of your settings or data.
This is always my first go-to approach when my eero system starts acting up.
If you suspect that the issue is related to just one eero—the internet only has problems in one specific room or part of the house, for example—then you can try power cycling just that Beacon.
However, I've found that it often works better to power cycle both the Beacon and the main eero that's connected to your modem at the same time.
Here's how:
Unplug the eero Beacon first. This ensures that it disconnects from your hub.
Unplug the main eero Hub (or whichever eero you have connected to your internet line).
Wait a full minute.
Plug in the eero Hub first, then plug in the eero Beacon.
It's normal for the WiFi network to take a minute or two to come back online following these steps. This is a sign that it's establishing a fresh connection to your home network.
How To Soft Reset eero Beacon
A soft reset of your Beacon will remove some of your network settings without kicking it off the network completely. Locate the reset button on the side of your Beacon and press it down for 7 seconds. The LED light should flash yellow.
Once the reset is completed, the LED should turn solid white again.
The main benefit of a soft reset is that you won't need to set your Beacon back up again.
How To Factory Reset eero Beacon
A factory reset will change all the settings on your Beacon back to the original factory configurations. You can factory reset your eero by pressing the reset button on the side for 15 seconds, or until the LED flashes red.
A factory reset may take slightly longer than a soft reset, so standby for 1-2 minutes. When the LED begins to flash blue, it means that the reset is complete and the device is ready to be set up again.
How To Reset eero Beacon From App
You can easily reset your Beacon using the eero app if you have it installed on your phone. Launch the app and tap on the Online status button at the top of the screen, then select the Beacon you want to restart. Tap on "Reset" and then tap "Restart Eero".
I personally prefer to reset my eero devices using the reset button because I can keep an eye on the LED status light. But if your eero is difficult to access, this can be a great option and only takes a minute.
Quick Recap
We've looked at a few different methods for resetting an eero Beacon, such as:
Power cycling the Beacon by unplugging it for 30 seconds.
Performing a soft reset by holding the button down for 7 seconds.
Performing a factory reset by holding the reset button down for 15 seconds.
For troubleshooting purposes, it's best to move through these options in the order shown above. Most issues won't require a full factory reset and can be solved with either a power cycle or a soft reset instead.
Of course, if you are getting ready to sell your eero or give it away, you will want to perform a factory reset to make sure none of your network data remains with the device.
| Reset Method | Requires Setup? | Press Reset Button | LED Indicator |
| --- | --- | --- | --- |
| Power Cycle | No | — | — |
| Soft Reset | No | 7 seconds | Blinking Yellow |
| Factory Reset | Yes | 15 seconds | Blinking Red |
| App Reset | No | — | — |
How To Get Help
Hopefully this guide helped you reset your Beacon so that you can get back to your day. But if there are still issues that you weren't able to fix with a reset, all is not lost.
You can contact eero support by phone or live chat, both of which are available 7 days a week. In my experience so far, I've found their support team to be very quick to respond to questions and willing to stick with your issue until it's fully resolved.
Video Walkthrough