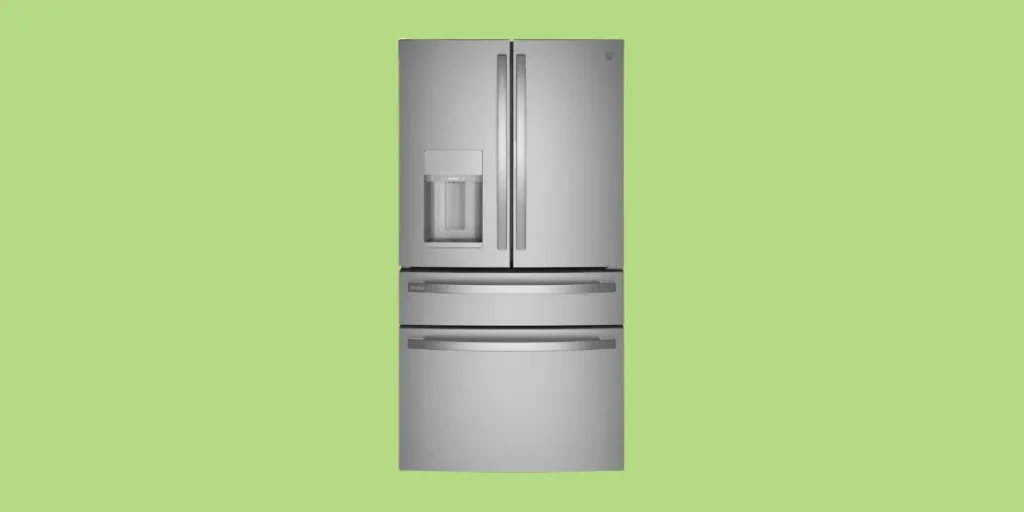 It's recommended that you change the water filter in your refrigerator every 3-6 months, and it's not one of those chores you should skip.
Not only do filters clean the water coming out of your dispenser, most GE refrigerators also filter the water going to your ice maker as well.
And over time, those filters lose their capacity to clean the water that's being pushed through them. They can even make your water quality worse by introducing contaminants and bacteria.
So it's important to replace them regularly. Luckily, resetting your GE refrigerator water filter is quick and easy.
I'll cover the exact steps you need to take, no matter what model of GE refrigerator you have.
Let's get into it!
How To Reset GE Refrigerator Water Filter
To reset your GE filter, first open the fridge doors and locate the compartment labeled "Water Filter". Press the tabs to open the cover, then swivel the filter out 45º, twist it, and pull it straight out. Install the new filter and reset the filter light by pressing the Water button and holding it for three seconds.
Keep in mind that if you use one of the newer GE water filters that has RFID enabled, your fridge may automatically detect that a new filter has been added and disable the light for you.
This process should work for most models of GE refrigerator, including the popular Profile series.
How To Reset GE Side-By-Side Refrigerator Water Filter
The reset process is going to be slightly different if you have a side-by-side refrigerator (with the freezer compartment on the left and the refrigerator compartment on the right).
The main difference is that there is no cover to open and you don't need to swivel the filter out.
Instead, simply locate the water filter and then turn it counter-clockwise until it releases.
What The Manuals DON'T Tell You
User manuals can be great, but they don't always tell the whole truth. Some things you just have to learn through experience.
In general, it should require very little effort to pull the filter out from the refrigerator. If you are having to pull on it and it still isn't coming out, pause for a moment.
You want to avoid trying to force the water filter out before you've confirmed that it's in the correct position to be removed.
To do so, pause for a moment and check two things:
Make sure that you have pulled the water filter away from the compartment as far as it will go. The filter should pivot away from the side or top of the refrigerator to make it easier to remove.
Make sure that you have twisted the filter all the way. On most models, you will rotate it counter-clockwise to loosen the filter, then clockwise to tighten the new one.
In my experience, double-checking both of those things helps me to loosen the filter up in every case. Often times the filter will pop right out once in the correct position.
However, it is possible for water filters to seize up, especially if it's been a long time since it has been replaced. You might notice calcium build-up around the nozzle of the filter if that's the case.
This is the situation that might call for you to use a little extra force to pull the filter out. Disconnecting the water line from the refrigerator can also help to loosen it by reducing the water pressure on the filter.
What To Do If You Can't Reset Your GE Water Filter
If you run into an issue with your water filter that you can't fix yourself, you have two options depending on the problem.
Problem With The Water Filter Cartridge
Each water filter cartridge comes with a 30-day limited warranty.
That means that GE will replace the filter cartridge free-of-charge if it fails within 30 days of purchase due to a defect.
To initiate a warranty claim, go to geapplianceparts.com or call 1-800-GE-CARES.
Problem With The Refrigerator
If the problem seems to be with your refrigerator — such as a leak coming from inside the door — you should get this looked at by a professional.
Most appliance manufacturers like GE maintain a fleet of repair technicians that get dispatched for warranty repair work.
So the first step is to contact GE customer support and explain the problem to them. If you're lucky, they may have a troubleshooting idea you can try that will fix your issue.
Most likely, though, they will attempt to diagnose your issue over the phone and then put you on the repair schedule. You'll be given a repair window and then a technician will come to your home with the parts they think they'll need to repair your refrigerator.
I've had to get this done several times with a refrigerator and other appliances, and it's usually a fairly straightforward and hassle-free process.
The hardest part is making sure someone is around during the repair window, which can sometimes be up to 8 hours long.
However, making sure your GE refrigerator is working properly and won't flood your house while you're gone is definitely time well spent.
Where To Find Replacement Filters
While you can always order official GE replacement filters, Amazon has introduced a third-party water filter that tends to work just as well. The filter capabilities are similar and those who have tried both types say that the water tastes the same.
Here's a quick link to both versions in case you need to stock up, with live pricing information that's updated daily: