When Google first announced the Nest Mini in 2019 it was met with generally favorable reviews. Now on its second generation, this little device has grown up and is much more reliable than the Google Home smart speaker that it replaced.
But as is the case with other products like the Nest thermostat, you might run into connection issues, either with your WiFi or with Google Home. Knowing how to reset your Nest Mini can be very helpful.
And of course, if you are looking to sell or give yours away, it's always a good idea to reset the device first to make sure that your personal data is secure.
I'll cover all the steps you need in order to reset your Mini quickly. Then I'll go into some of the reasons the Mini loses connection and how you can determine what's causing the issue for you.
How To Reset Nest Mini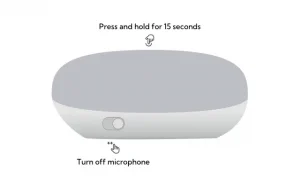 To reset your Nest Mini, first turn off the microphone. Press the top of the Nest Mini and hold it down for 15 seconds. The device will notify you when it is being reset. Keep in mind that this will delete your data and you may need to set it back up again.
As you can see, resetting your Mini back to factory conditions is a fairly straightforward process.
After you have successfully reset the Mini, it's a good idea to launch the Google Home app and remove it from your account. Then you can add it back if you want to continue using it.
The nice part about this process is that it re-establishes the connection between your Mini and your WiFi network as well as the Google Home app. So if you were having any trouble with the speaker not responding, a factory reset should fix that completely.
Step 1: Turn off the microphone
You will need to make sure that the microphone is turned off/muted before pressing the top of the Mini. If you don't do this first, it won't complete a factory reset.
Step 2: Press the top of the Nest Mini for 15 seconds
Press the top of the Nest Mini (where the lights are located) and hold it down for about 15 seconds. Wait until you hear a confirmation from the Mini that it is being reset.
Step 3: Remove Nest Mini From Your Account
To complete the rest process, you will want to make sure that your Nest Mini has been removed from your account. This will ensure that your devices list is up-to-date and make it possible for you to reconnect your Mini using the Google Home app.
What To Do If Your Mini Is Unresponsive
If you reset your Nest Mini and it isn't responding to your voice or making any sounds, something may have gone wrong.
Occasionally, during the reset procedure, the device can become stuck and be unable to complete a reset. This may cause it to freeze or appear to be unresponsive.
Google provides a way to fix this, but unfortunately it is a little tedious.
Unplug the power cable from the back of your Mini.
Wait 10 seconds, then plug the power cable back in. Wait until you see all four lights on the top turn on.
Unplug the power cable again and repeat the process for a total of 11 times.
This whole process will take about five minutes, but it will essentially force your Mini to reset itself. You'll know it's worked when you plug the power cable in for the final time and the speaker says, "Welcome to Google Home."
Final Words
The Nest Mini is significantly more reliable than the original Google Home speaker. Not only does it have better sound and an additional microphone, its components are higher quality.
That said, it's still fairly common to experience the occasional connection issue with your Nest Mini. I covered two methods for resetting:
A standard factory reset by turning off the microphone and pressing the top button down for 15 seconds.
A backup reset process where you unplug the power cable from the Mini 11 times.
Obviously, out of the two of these options, the first one is going to be much quicker. But it's comforting to know that if something really goes wrong, you still have a way of troubleshooting your Nest Mini.
If you've tried all of this and are still experiencing troubles, it may be worth reaching out to Nest support. Google offers both phone and chat options through their support portal, and both are available 24/7.
Video Walkthrough