Roku allows you to set a four-digit PIN (personal identification number) that can be used to restrict certain functions on your account. But what happens if you need to reset it?
If you're like most people, then you probably created your PIN ages ago and have simply forgotten what it was. Fortunately it's easy to change and even disable your PIN at any time, even if you don't know the current code.
To reset your Roku PIN, sign in at my.roku.com and click on "Update" under PIN Preferences. Click "Change PIN" and then enter the new four-digit code you want to use. You can also decide if the PIN should be required for purchases, adding channels, or watching certain types of content.
If you want to know more about how to reset your Roku PIN, keep reading.
In this article, I'll explain what the Roku PIN actually does, how to disable it completely, and what to do if you get stuck.
Here's what you need to know.
What Is Roku PIN?
The account PIN is a four-digit number that allows the Roku account owner to restrict access to certain features on your account. You can require someone to enter the PIN to make purchases, add new channels, or to block content on the Roku channel.
Like most smart TV interfaces, Roku uses a PIN instead of a password because it is faster and easier to enter with a remote.
And although a four-digit code may not sound like it's very secure, there are actually 10,000 possible combinations. So as long as you don't use one of the common PINs (like 1234 or 0000), it should be very hard for someone to guess your code.
How To Find Roku PIN
You can locate your PIN by logging into your Roku account at my.roku.com. If you look under the section titled "PIN Preference", you will see a summary of your current PIN settings. Click on "Update" to change your PIN or to require it for certain functions.
The PIN itself will appear as a series of four star symbols (*), like this: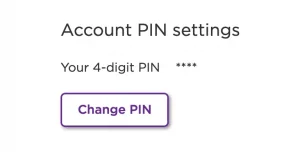 There is no way to check what your actual PIN is, but you can reset it by clicking the "Change PIN" button. You can enter any four digit code (numbers only), even if you've used it as a PIN with Roku before.
The other option is to disable your PIN so that your Roku will stop asking for it.
How To Remove Roku PIN
Once you set an account PIN, there is no way to remove it completely. However, you can disable it by going to my.roku.com/account/pin and setting the first option to, "A PIN is not required to make any purchases or add any channels" and the second option to "Off".
Your settings should look like this if your PIN is disabled: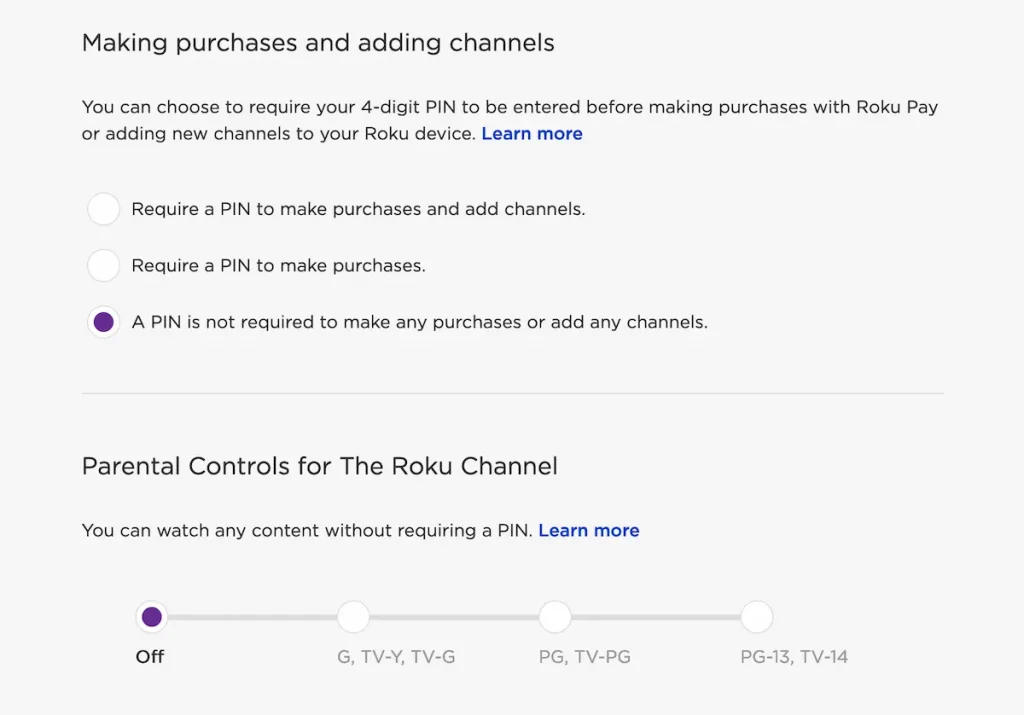 This can be a little confusing since the PIN is technically still "enabled" for the account. However, these settings mean that you won't be asked for your PIN code even though it still exists.
This setting can also be changed at any time to easily allow you to restrict content as you see fit.
Default Roku PIN
Locking your Roku account with a four-digit PIN is optional, and as a result there is no default code that Roku uses. If your Roku account has the PIN feature enabled, then it was most likely set up at some point previously.
Forgot Roku PIN
If you've forgotten your Roku PIN, it may be tempting to try guessing it. However, with over 10,000 possible combinations, that could take a while. The quickest option is to log into your Roku account and reset the PIN to something you'll remember.
As mentioned above, you can reset your PIN to any number, even if it is one that you've used before. So if you're having trouble with the code, it only takes a few seconds to update it.
How To Change Roku PIN
The process for changing your PIN is exactly the same as resetting it. Simply log in to your account at my.roku.com, click "Update" below the "Pin Preferences" section, and then click "Change PIN".
In general, it's best to avoid using codes that are frequently used or easy for someone else to guess, like 1-2-3-4 or 0-0-0-0.
Final Thoughts
Roku does a great job of allowing you to quickly get to your PIN settings and to update them with a fine level of control. And although I'd prefer a way to remove the PIN altogether, it's still fairly easy to disable.
We took a look at a few different approaches you might need to try, including:
How to find your Roku PIN in the account settings
How to remove your PIN by adjusting the settings
Ruling out any "default" PIN
What to do if you forgot your PIN
How to change it
Hopefully this article was helpful and you've managed to reset your Roku PIN. If you're still having any trouble, you can contact Roku by visiting their support site and selecting the "Contact Us" option.