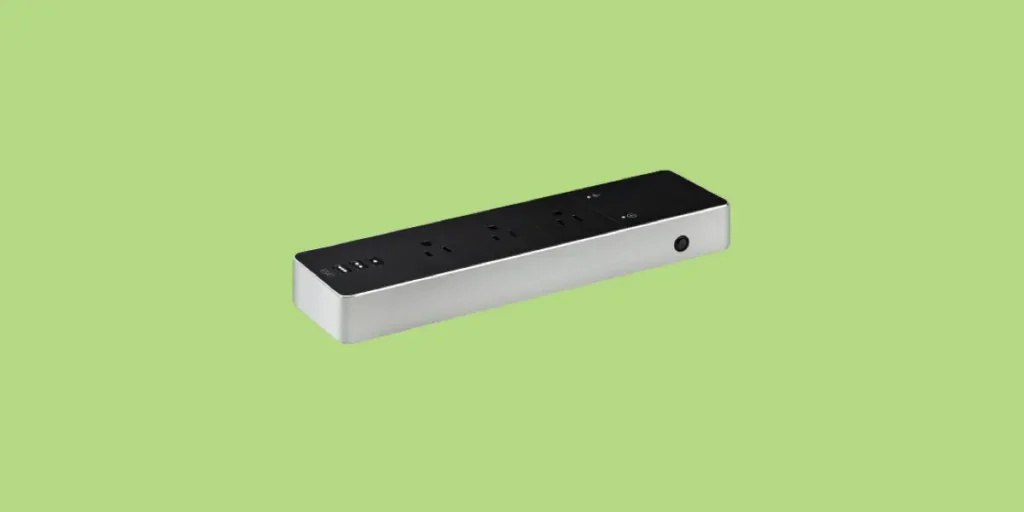 The Eve Energy Strip is a HomeKit-enabled power strip with smart features like built-in schedules and the ability to track power consumption. But like most smart devices, you may need to occasionally reset the Eve Energy Strip if it stops responding.
I'll cover everything you need to know in order to reset your energy strip, and what to do if that doesn't work.
Let's get right to it!
Reset Eve Energy Strip
Resetting your Eve Energy Strip can help if it has stopped responding. To run a soft reset, simply unplug the strip for 15 seconds and plug it back in. To run a hard reset, press down the first and last power buttons for 10-15 seconds. Once all lights stop blinking, the reset process is done and you can set it back up.
How To Soft Reset Eve Energy Strip
The first step when experiencing any issues with your power strip is to complete a soft reset.
This leaves your settings and data intact, but can solve some of the most common issues such as old data or spotty connections.
To soft reset your Eve Energy Strip, follow these steps:
Make sure that your power strip is plugged in and receiving power.
Remove any plugs that are connected to the power strip.
Unplug the power strip and wait for 15 seconds.
Plug the strip back in, then wait for the LED lights to stop blinking.
Insert any plugs that were connected to the power strip and test it.
How To Factory Reset Eve Energy Strip
A factory reset will return your device to it's original factory settings. This means you may lose your data and settings and you will need to set the power strip up again.
But if you're having trouble connecting to your power strip or it has stopped responding, this can sometimes be the only way to fix the issue.
To factory reset your Eve Energy Strip, follow these steps:
Press the first and last power buttons on the strip and hold them down for 10-15 seconds.
Once you see all three LEDs blink, release the buttons.
The LED lights will continue blinking during the reset process and will stop blinking once it is done.
Follow the steps to set up your power strip again.
Eve Energy Strip Not Responding
If you've tried the steps above to reset your power strip and it still isn't working like it should, there are a few possible reasons. Let's go through each one and look at the steps to troubleshoot them.
Check Your Network Settings
Because it is a privacy-focused smart device, the Energy Strip has a few unique requirements that your network will need to meet.
To continue troubleshooting, check the following settings on your WiFi network:
The router has the 2.4 gigahertz band enabled and the Energy Strip is connected to this band (NOT the 5 gigahertz band).
The DHCP function is activated on your router.
You have deactivated authentication using a MAC address.
Bonjour and Multicast must be enabled.
The list above is ordered from the most common issue to the least common, so just work your way through it until the Power Strip starts working.
If that still doesn't do the trick, read on.
Reset your router and any access points (APs)
Sometimes communication errors aren't the fault of the Energy Strip, but rather something that has gone wrong on the router side.
To resolve any potential issues with your router, follow these steps:
Locate your router and unplug the power cable.
If you have any access points or a mesh WiFi system (such as Eero extenders), reset these by unplugging them as well.
After 60 seconds has passed, plug your router back in.
Plug all of your access points or extenders back in.
After resetting your router, you may need to wait a couple of minutes for your network to come back online. You can check the status by trying to load a website on your phone or computer.
Once the network is back online, try connecting to your Energy Strip and check if it is working correctly.
Eve Warranty And Support
If you are still experiencing issues with your Eve Energy Strip, it may be time to reach out to their support team.
You can submit a ticket online and they will get back to you within a day or two. You will need to provide them with the model name and serial number of the product.
Eve offers a one-year manufacturer's warranty, so if you have had your power strip for less than a year you should be covered under the warranty period.
A quick heads-up: Eve reserves the right to test Energy Strips that are returned as part of the "Dead-On-Arrival" warranty process. If they find that the strip is working properly, they can charge a $100 handling fee.
They also reserve the right to deduct 15% of the refund price if you return a defective Energy Strip without all the parts or without the packaging. So it's best to keep the box and all inserts around for the first year or so.