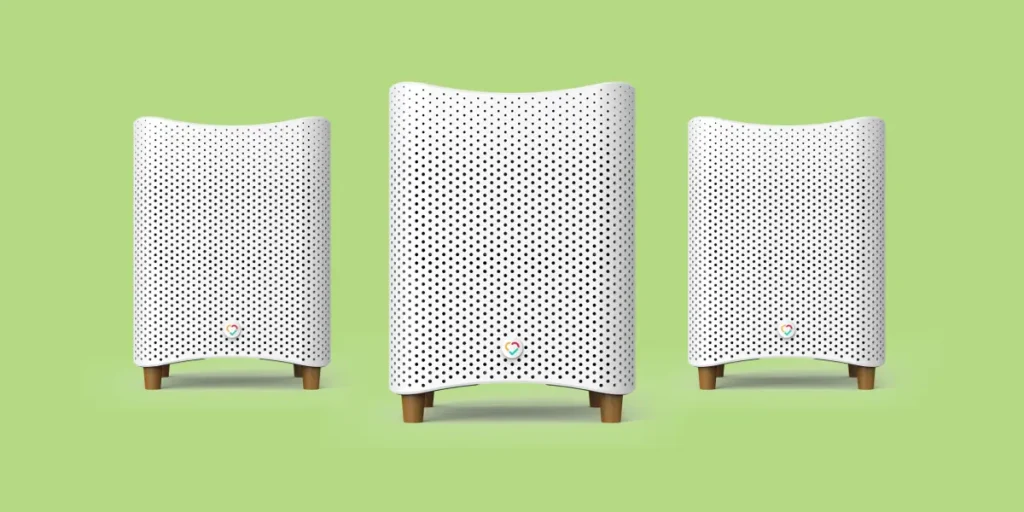 Mila is a modern air purifier that is designed to actually look good with your furniture. After stress-testing two Milas in a dusty house for over a year, we have experienced all the highs and lows that come with these little devices.
That includes performing the (occasional) reset when things go wrong.
And unlike some other air purifiers (we're looking at you, Levoit), the process to reset a Mila air purifier is refreshingly simple.
Let's take a look.
Reset Mila Air Purifier
To reset your Mila, turn off the power by flicking the switch on the bottom of the device and wait 20 seconds. Turn the switch back on and then wait 1-2 minutes while the device recalibrates.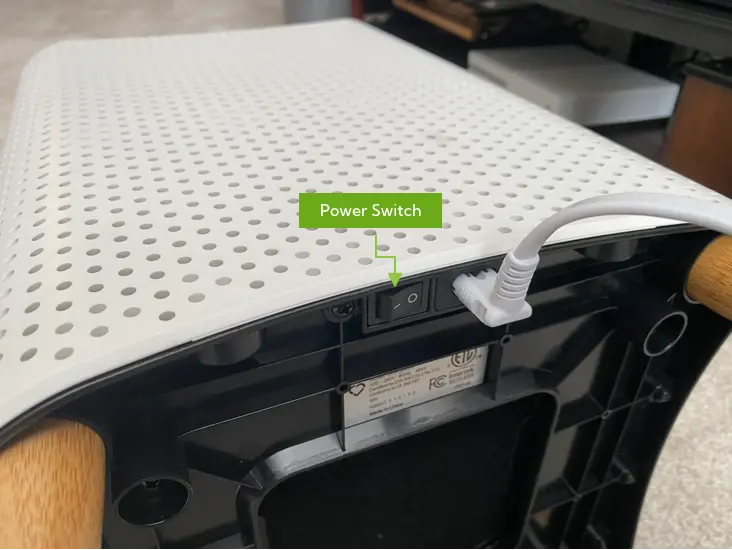 Expect to set aside 2-5 minutes for the complete reset process. Part of this time will be the Mila going through a recalibration cycle, which you don't need to be present for.
For more details and additional steps, keep reading.
How to Soft Reset a Mila Air Purifier
The easiest and safest way to reset your Mila is with a soft reset.
A soft reset will simply restart your Mila and is a good first step to try because it won't erase your settings or WiFi connection.
To soft reset your Mila, follow these steps:
Turn off the power by flicking the switch on the bottom of the Mila device.
Wait about 20 seconds.
Flick the switch on again.
Wait about 60 seconds while the air purifier recalibrates.
After turning the power back on, your Mila will slowly go through all of the fan speeds up to 100%. Consider yourself warned: It may get a little noisy.
What issues can a soft reset solve?
Soft resets are best if your device is experiencing connectivity issues. If your WiFi keeps dropping or the Mila app isn't communicating with the air purifier, this should help you fix it.
How To Check Mila Firmware
You can easily check to make sure that your Mila is running the latest firmware by checking in the Mila app.
To check your firmware version in the Mila app:
Open the app and tap on the Settings icon in the bottom right (it looks like three sliders).
Tap on Account.
Scroll down and tap on Technical Info.
Check each of your Milas (if you have more than one) to see what version it's running. It will be a series of numbers and letters such as "1.5.3_a9cb391c".
Slide that screen down to dismiss it.
Select "View FAQs" and scroll down until you see a section called "Mila Firmware – Current Version".
Check to make sure that this version matches what you saw for your Milas.
Mila will automatically update its firmware when a new version is available provided that it's connected to the internet.
If your Mila isn't updating for any reason, contact support@milacares.com and ask them to push a firmware update to your device. (The company is working on adding the ability to update devices using the app soon, and we'll update this post once that's been added.)
How to Reconnect Mila WiFi
Reconnecting your Mila to WiFi is easy.
Turn the Mila off by clicking the switch on the bottom of the device.
Wait 20 seconds, then flick the switch back on.
Reboot your WiFi router by disconnecting power to it for 30 seconds, then plugging it back in.
Turn the Mila air purifier off by flicking the switch on the bottom of the device and wait 20 seconds. Then, turn your Mila back on and reboot your WiFi router by disconnecting power to it for 30 seconds and then reconnecting it.
FAQs
You may have other questions about your Mila air purifier that we haven't covered yet. We've gathered the most common ones below for your convenience.
Where can I find the Mila air purifier app?
You can download the Mila app from the Apple App Store and from the Google Play Store.
Where can I find the manual?
You can download a PDF version of the Mila manual by clicking here.
What is Mila's warranty?
As long as you purchased your Mila from Mila.com, Amazon.com, or Kickstarter/Indiegogo, you're device comes with a 1-year warranty.
Keep in mind that Mila reserves the right to replace your device with one made of refurbished parts. They will always make sure that these parts are in working order, though.
How good is Mila's support?
We had to reach out to Mila customer service on several occasions, and in each case heard back in less than 24 hours.
Their support is excellent, so if you are having troubles with your Mila air purifier, don't hesitate to reach out to them.
In one case they even offered to replace a Mila that was showing "non-Mila approved behavior" (this is what they call a malfunction) even though the device was slightly beyond the warranty period.
This is an example of great customer service, and sadly it's rare to find with air purifiers these days.
What does "Mila is detecting weirdness" mean?
This is a unique feature of the Mila air purifier, and it generally means that your device has detected particles that it doesn't recognize.
Keep in mind that your Mila has a number of sensors that help it display things like temperature, dust particles, humidity, VOCs, and CO2. If the sensor picks up a particle that's bigger or small than it expects, you may see this error.
To clear the "weirdness" error, follow these steps:
Remove the front filter panel and pull the filter out.
Put the filter panel back on.
Switch the the device into Manual Mode by tapping on the round "O" on the screen.
Turn the fan speed to 100% by tapping on the plus button.
Let the air purifier run for 20-30 minutes.
Turn the Mila down to 0%.
Remove the filter panel and slide the filter back in.
Put the filter panel back on and switch the device to Auto using the "O" button on the screen.
Now you can switch it to Auto to see if the error has been cleared.
What will happen if I need my Mila to be repaired or replaced?
If you contact Mila customer support and they aren't able to help you troubleshoot your issue, they will simply replace the device (as long as it's still in warranty).
They will ship a new Mila to you. All you need to do is remove your filter and put it in the new Mila, then send the malfunctioning one back using the same box using a pre-paid label that they will email to you.
This lets their team inspect the malfunctioning Mila to see what caused it and if they can improve the design.
Do I need to get a Mila sock?
We definitely recommend order a sock pack from Mila. These wrap around your filter and capture some of the larger dust particles, extending the life of your filter.
Take a look at the picture below to see how much dust they can catch in just a couple of months!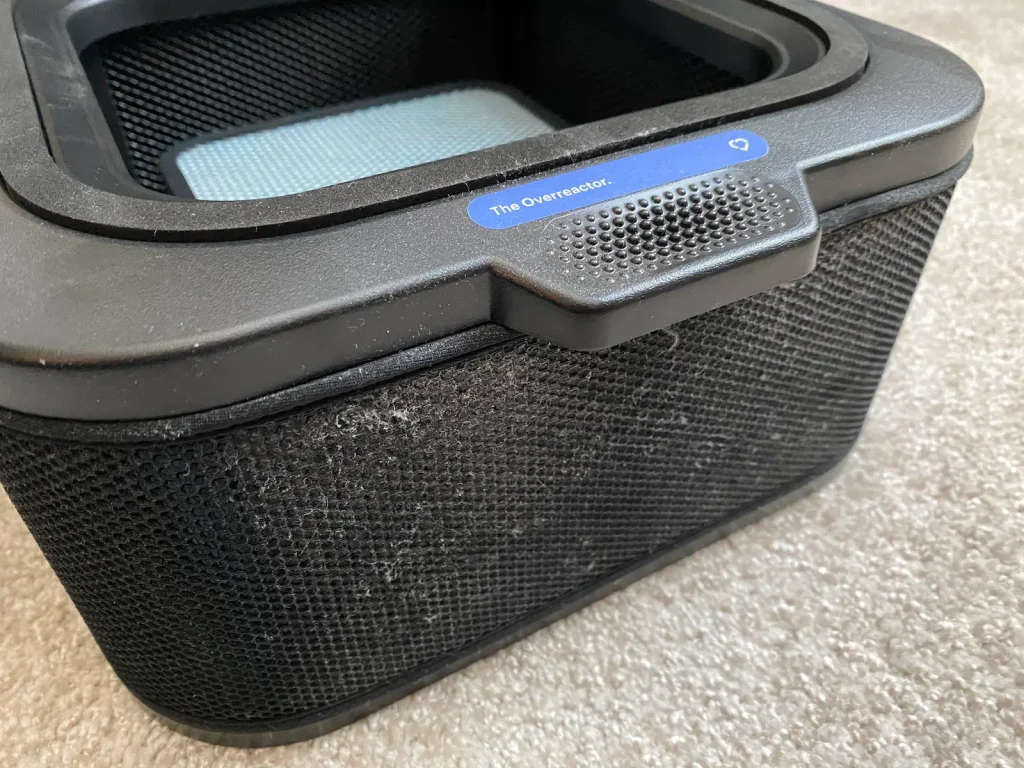 If Resetting Doesn't Work…
Your best bet is to simply contact Mila customer support. In our experience, their team is quick to reply and goes above and beyond to get things working again.
The easiest way to contact them is by emailing support@milacares.com.
If you are out of warranty or just don't want to deal with the hassle of waiting on repairs, you can also purchase a new air purifier from the Mila website or from Amazon.
Conclusion
Despite the occasional issue, we have been very happy Mila owners for over a year now. We give the company high marks for their design, an intuitive app, unique features, and the friendliness of their support team.
And when an issue does come up, a simple reset can usually fix it.
We've covered several options to reset your Mila:
Soft reset
Check firmware
Reconnect Mila WiFi
What to do if resetting doesn't work
Hopefully this guide was helpful, but if you're still facing issues, it's best to email Mila customer support at support@milacares.com.
Related: Check out our 15-month hands-on review of the Mila air purifier.