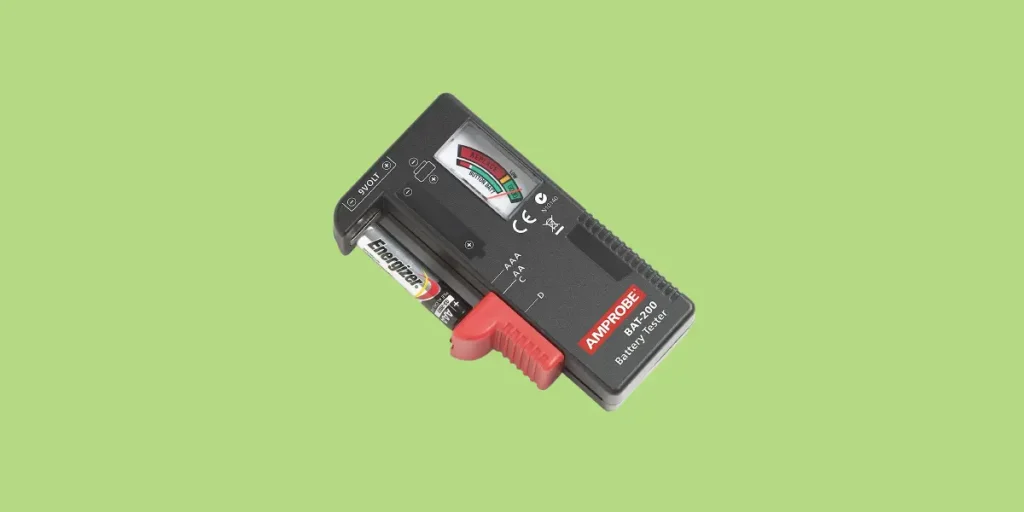 According to the EPA, every household will go through dozens of batteries each year. But it can sometimes be hard to tell if a battery is dying or if the problem lies with your remote or other electronic.
When choosing a AA battery tester, it's a good idea to pick something simple and reliable, such as the BAT-200 by Amprobe. In addition to AA batteries, this device can test everything from a button type battery up to a D battery. It also requires no batteries of its own to operate.
There are definitely fancier battery testers out there, but in my opinion the BAT-200 hits the sweet spot between flexibility and simple use. All you have to do is press one end of the battery to the top and then slide the red handle up.
The gauge gives you a clear reading, indicated "Good", "Low", or "Replace". This is great if you have several batteries you want to test because you can quickly go through them and separate out any that are about to die on you.
Amprobe BAT-200 Battery Tester
Amprobe has been making testing tools for electricians and HVAC technicians for more than 70 years. The BAT-200 is a simple and proven battery tester that will cover all of the most common types of batteries and will work flawlessly for years.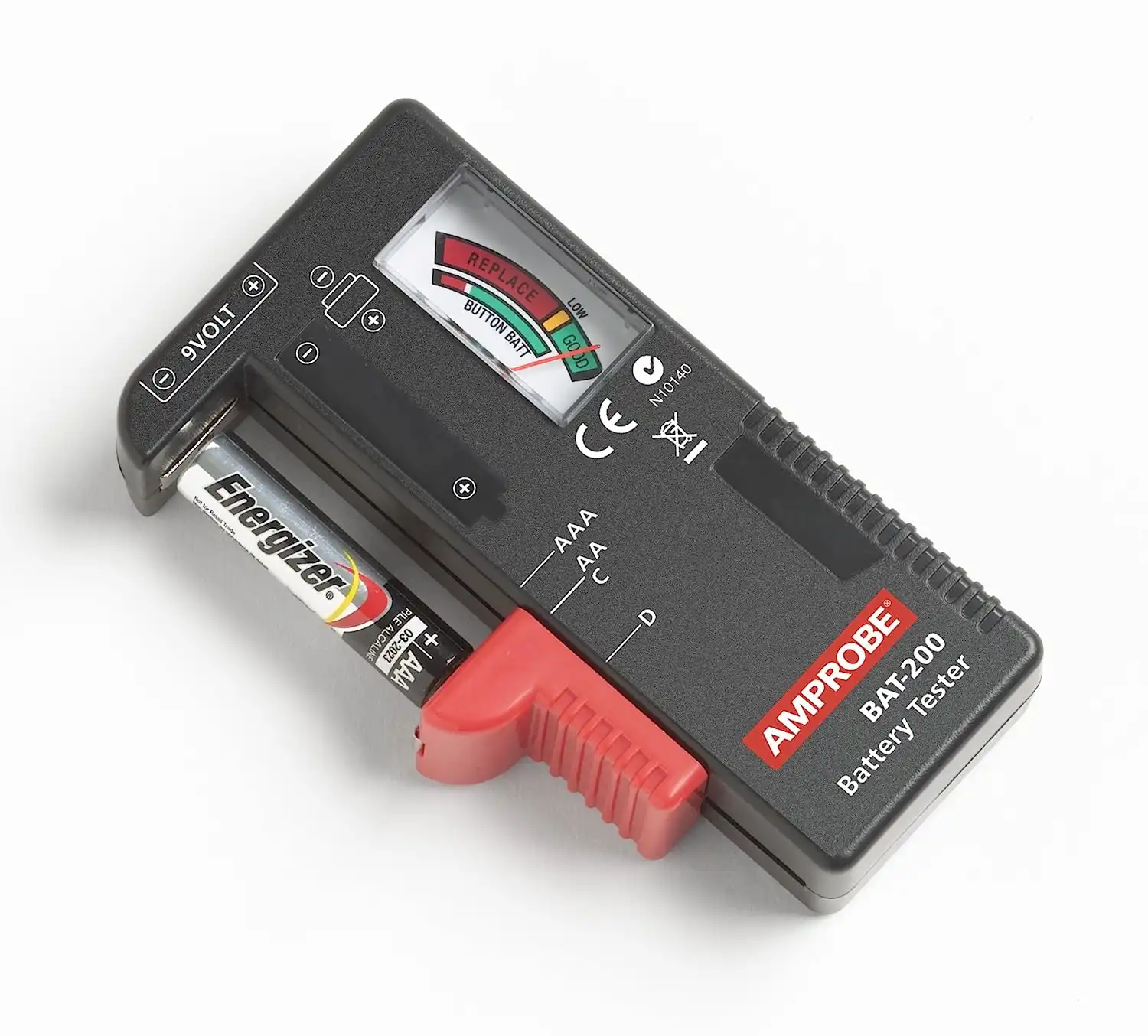 I may earn a commission if you make a purchase, at no additional cost to you.
Battery Types
The BAT-200 works with 9V, AA, AAA, C, D, and 1.5V button batteries. You'll get results the instant you touch the battery to both of the metal plates, and the results themselves are very easy to read.
AA Battery Testing
The BAT-200 really excels at AA battery testing in my experience. It fits snugly and it is easy to read the results on the display.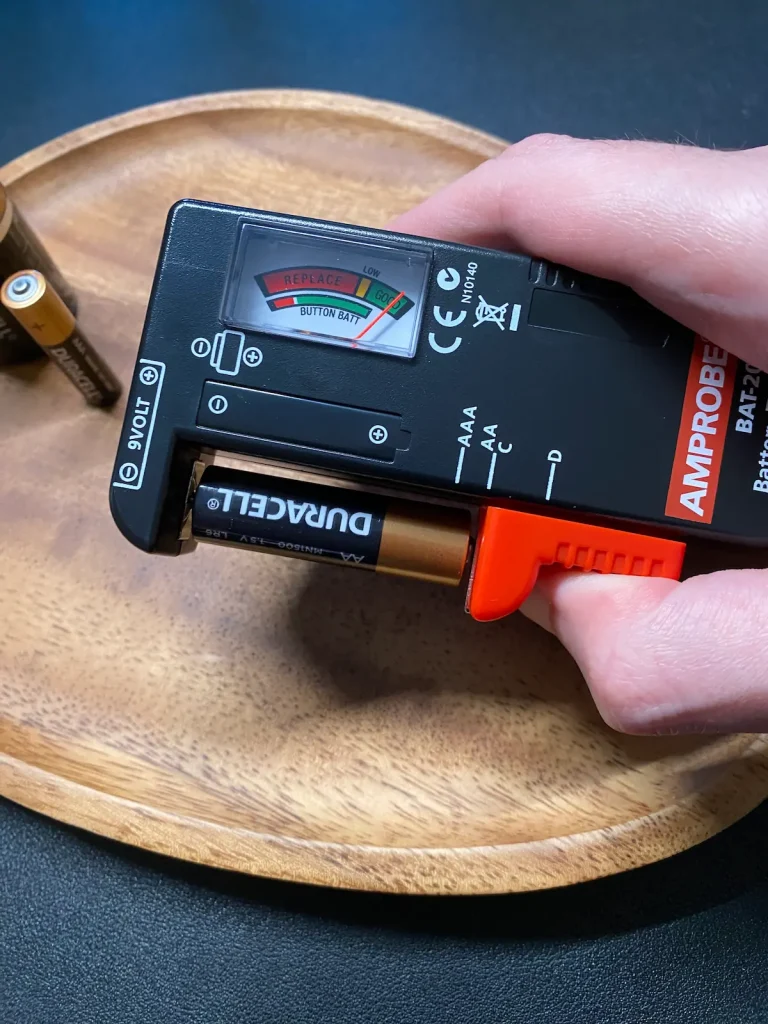 AAA Battery Testing
I found that testing AAA batteries was just as easy with the BAT-200 as the AA batteries were. They fit snugly and it's easy to push the red handle up to make contact with the battery.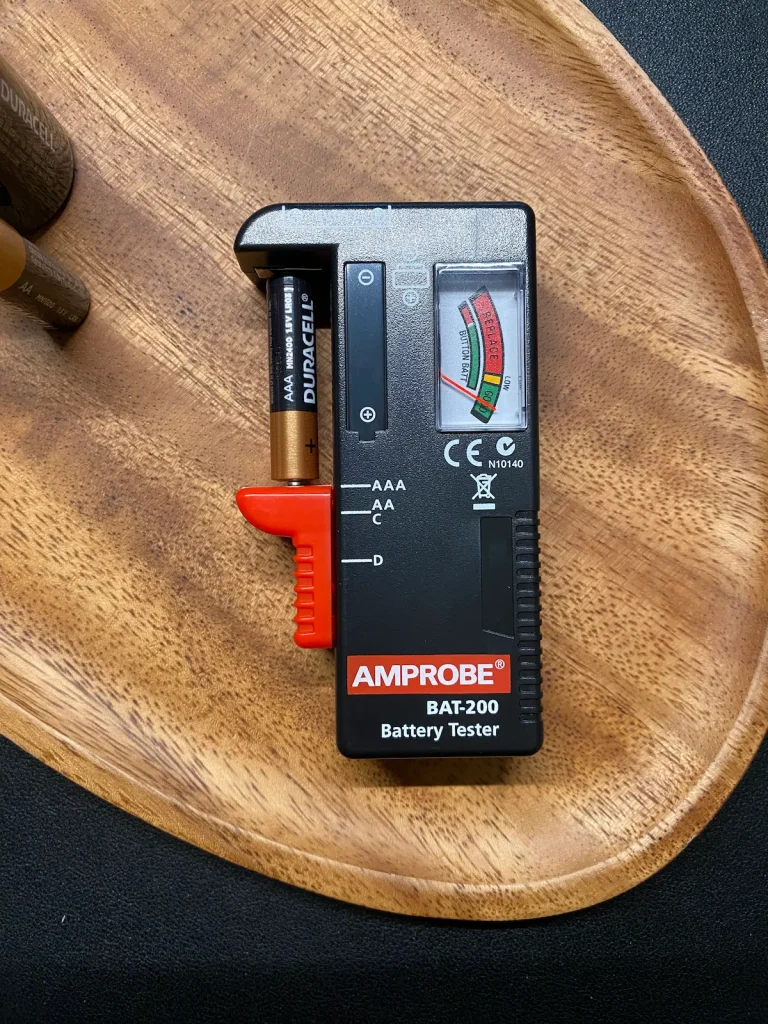 D Battery Testing
D batteries are a little cumbersome and just barely fit in the tester, but it works easily enough and there is no problem with reading the battery level.
When Should You Test Your Batteries?
There are a few reasons that you may want to test your AA batteries, rather than simply replacing them.
The main reason that most people test their batteries is to reduce your costs and prevent waste. If you have a lot of electronic devices that run off of batteries, you are naturally going to go through batteries faster.
And while their not that expensive, the costs can add up. Sometimes dead batteries get mixed in with new batteries in a drawer or box and you need a way to separate them out.
Another reason is to check the lifespan of your rechargeable batteries. You can test them after charging to double check that your charging station is working properly, or test them after a couple weeks of use to see how long they will last.
The last reason I like to have a battery tester handy is to figure out if a remote has stopped working because of a connection issue or because of a battery issue.
Rather than just replace the batteries, I can pull them out and test them to make sure that the battery isn't at fault. This has helped me troubleshoot issues with remotes a lot faster.
Overall, a battery tester is just one of those measurement devices that you should have in your toolbox along with a tape measure and an outlet tester.
How To Dispose of AA Batteries
Most states in the U.S. allow you to dispose of your AA batteries alongside your other household waste. However, there are a few exceptions that are good to know about.
Throw Them Away
The easiest option is to simply dispose of your dead batteries in your regular household trash. Since dry-cell batteries are considered non-toxic, they are typically accepted at most landfills.
A big exception is the state of California, where it is illegal to throw away any type of battery. Instead, batteries must be recycled.
Recycle Your Batteries By Mail
Call2Recycle offers convenient at-home recycling kits that can be used for all types of batteries and cell phones. The small recycling kit can hold up to 25 pounds of batteries and currently costs $55 which includes prepaid shipping and recycling.
A typical household will fill that about every 2-5 years. If you want to go this route, my recommendation is to collect your dead batteries in a box somewhere and then order a recycling kit once you have a good amount of batteries stored up.
You can also offer to collect batteries from your friends, family, and even neighbors to make the whole process more efficient.