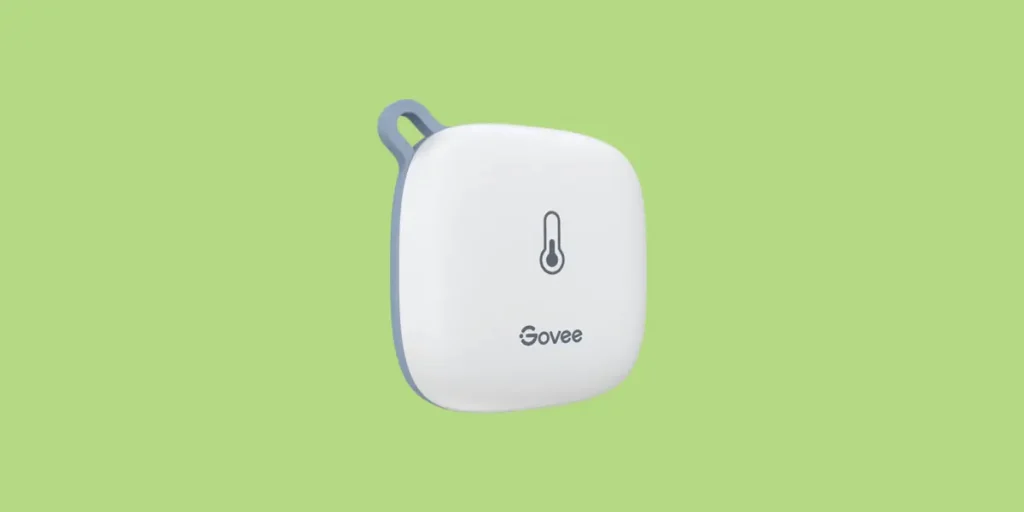 Govee makes a compact (and impressively affordable) smart thermometer that can continuously measure both temperature and humidity and report the results back to your smartphone.
And while these sensors are generally reliable, it's fairly common to experience the occasional connection issue that requires you to reset the thermometer's WiFi connection.
That's where this guide comes in.
I'll cover everything you need to know in order to reset your Govee thermometer. I will also show you how to back up your data and clear it from the device in case you are preparing to sell or return your thermometer.
Let's get right to it!
How To Reset Govee Thermometer
First, check the batteries in your Govee thermometer with a battery tester or by replacing them. Then open the Govee Home app and select the malfunctioning sensor from the devices list. Tap the Settings icon and then tap "Reset WiFi" to reconnect the device to your network. For best results, connect to a 2.4Ghz WiFi signal.
Don't worry, I'll go into each step in more detail so that you can be certain you're following the right steps.
Step 1: Check The Batteries
Even if your thermometer appears to have power and is working, low batteries can cause the WiFi connection to drop out randomly. Govee says that batteries should last 500 days under normal conditions, but this can vary depending on a number of factors such as how frequently you sync your data and how long the batteries were stored prior to use.
So your first step should be to check the batteries to ensure that they are sufficiently charged to run your thermometer or if they need to be replaced.
I like to use this simple $9 battery tester because it will show you exactly how much life is left in most common battery types (and doesn't require a battery of its own to operate, so it's always ready to go). But you can also test your batteries by simply swapping them out with new ones.
Step 2: Reset The WiFi In The Govee App
Next, you will need to manually reset the WiFi connection. This won't affect your device or data, but will allow you to reconnect your Govee thermometer to WiFi.
This is especially important if your WiFi network or password has changed, or if the connection keeps dropping out despite having fully-charged batteries.
To reset the WiFi, follow these steps:
Open the Govee Home app on your phone.
Locate the thermometer that you want to reset from the list of devices, then tap on it.
Wait about 5 seconds while the app connects and syncs with your thermometer.
Tap on the Settings icon in the top right corner.
Tap on Reset WiFi.
Follow the steps to reconnect your thermometer to your WiFi network.
When you are reconnecting your thermometer, try to connect to a 2.4Ghz WiFi signal if one is available. This band is a little slower but it tends to have a much better range, which means if your thermometer is losing connection because of a weak signal, switching to a 2.4Ghz WiFi may solve it.
That's all there is to it! With any luck, your thermometer has now reset its WiFi connection and it should start working from here on out.
If you continue to experience issues with your connection or data syncs, though, read on.
How To Back Up Govee Data
Govee makes it easy to back up or export your data if you are planning on getting rid of your smart thermometer.
Here's how to export your data:
Open the Govee Home app on your phone and select the thermometer.
Tap on Export Data button below the graphs.
Tap Send to the account mail to have the data emailed to you as a CSV. You can also enter a different email address if you prefer.
Select your data interval and the time period you want it to cover.
Tap the Send icon (top right corner).
After tapping send, it may take a few minutes for Govee's servers to process the information and send it as a .CSV file to the email address you selected.
Typically, this should take no longer than about 5-10 minutes. If 10 minutes has passed and you still have no email from Govee, you may have selected a time period that goes back to before the thermometer was activated. If that's the case, try reducing the period and exporting again.
What To Do If A WiFi Reset Doesn't Work
It's possible that even though you reset your thermometers WiFi connection, you may continue to experience problems with it.
If that's the case, your next step should be to try moving the thermometer to a different location. You can put it in a room that is closer to your WiFi router, or, if it's already nearby, try moving it higher or lower.
Even if it's in a room where you know the WiFi should be strong enough, it could be in a "dead pocket" where the signal just isn't reaching. This could be due to an obstruction like a metal wall or a piece of art, or it could be due to interference from a nearby device that's also using WiFi, such as a television.
Either way, moving your thermometer to another spot can help you to rule out any issue that's related to your WiFi setup. You can also use an app to check the signal strength of your WiFi network throughout your home if you want to be especially thorough.
Govee Warranty and Support
Of course, even after trying all the steps above, there's a chance that you'll still experience issues with your Govee thermometer.
If you do, you'll want to know what Govee's warranty covers and how to contact support.
Govee offers a standard 1-year manufacturer's warranty against any defects that shipped with the device.
In addition, you are eligible for a full refund if you are within 30 days of your purchase.
Govee may request proof of purchase in order to accept a warranty claim, such as a receipt or order # from their website.
You can contact Govee support by email at support@govee.com or by phone at +1 (855) 925-3570. Phone support is available Monday through Friday from 9AM to 5PM Eastern time.